I N T R O D U C T I O N

LOVE LETTERS PRIDE ♥️

Celebrate Love & Diversity

LOVELETTERS 2023 is proud to be exhibiting this year in conjunction with the Auckland Pride Festival, which runs January 28 – March 11, 2023.
We invite you to join us, collaboratively or individually to exhibit, with the first exhibition kicking off at Nathan Homestead January 28, and then travelling to various spaces around New Zealand during 2023.
The collection will then be donated to the Te Kowhai Print Trust archives, housed in Whangarei, where it will be cherished and used for printing education.
This year, we also invite you to promote the sale of additional copies of your works to interested visitors. The entry form provides a space for you to enter these details, should you wish to do so.
As always, we will be promoting the exhibition on social media, and we would love you to tag us in your process images, reels and stories @loveletters_letterpress #lovelettersnz2023.
The LOVELETTERS team is excited to again offer the opportunity to promote print in Aotearoa, and we look forward to welcoming you to LOVELETTERS 2023.

Yours in print,
Team LOVELETTERS
Toni, Steve & Rebecca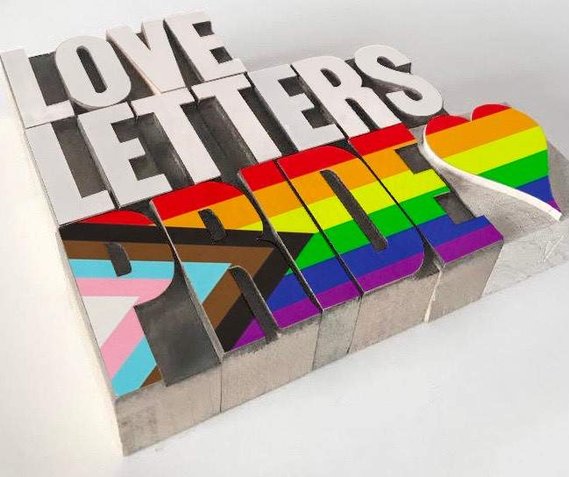 A R T W O R K E N T R I E S N O W OPEN
Theme: This year our theme is CELEBRATING LOVE & DIVERSITY. Works should express this years theme, noting that your content must be suitable for audiences of all ages, race and gender.
(Please note: the Love Letters team reserve the right not to include works which do not meet the brief or are derogatory in nature).
Printing: Images must feature Relief Printed Text, i.e. Letterpress, wood or lino cuts.

Size: Minimum accepted size is A5 (148 x 210 mm or 5.8 x 8.3 inches) Maximum size is A1 (594 x 841 mm or 23.4 x 33.1 inches)

Past Work: You may submit past works, no older than 5 years and NOT previously exhibited at Love Letters

Number of entries: A maximum of two entries per artist is permitted.
Deadline: All works are to be received by the 31st December 2022. Works coming from overseas may be accepted if they arrive after this date where timing allows.
Please photograph your works and email the team (noting their titles as the file name) either with your entry form, or upon completion and posting.
Entry fee: NZ$10 for two entries, this aids us in shipping the exhibition around the country. To be paid online to T Mosley 03-0399-0316217-002 Include your name in the reference area.

International Entries: We welcome all international entries and due to the cost of international postage/shipping to New Zealand, there is no Entry Fee payable for those outside NZ.
Entry Form: Download 2pg PDF and print or include the required information when sending your print/s in.

Send to:
LOVE LETTERS EXHIBIT
Attn: Toni
11 Sanctury Point
Pakuranga
Auckland 2010
New Zealand

Supporters

Auckland City Council
Nathan Homestead, Manurewa

Christchurch City Creative Communities Scheme
Imaging Systems
Format (website)

Stay informed about LOVE LETTERS
Sign up with your email address to receive irregular news and updates.